JAKE'S


UAKE PAGE!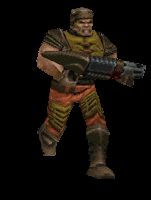 THE WEAPONS
Axe

Shotgun

Double-barrelled shotgun

Nailgun

Super-nailgun (my personal favourite)

Grenade Launcher

Rocket Launcher

Lightning Gun
THE MONSTERS
Sorry nothing here yet, wait a day or two.
THE CHEATS
IMPULSE 9

Gives all weapons.

IMPULSE 255

Gives you Quad Damage

GOD

Activates God Mode.

FLY

Enables the ability to fly.

NOCLIP

Turns on no clipping mode (Walk through walls)

NOTARGET

Enemies will not fire until you shoot at them

REGISTERED 1

Makes Shareware version of Quake think it's the registered version. (Note: you cannot go into any other slipgates other than the first or else Quake will lock).

GIVE [C] [H] [N] [R] [S] #

Give you whatever number of [C]ells, [H]ealth, [N]ails, [R]ockets, [S]hells.

IMPULSE 11

Get a Rune

R_FULLBRIGHT 1

Gets rid of shadows

IMPULSE 12

Limited gimmie

IMPULSE 13

Gives you the silver key

IMPULSE 14

Gives you the gold key

IMPULSE 252

Pentogram of Protection for 30 seconds

IMPULSE 253

Ring of Shadows for 30 seconds

IMPULSE 254

Biosuit for 30 seconds
SCREENSHOTS
THE HACKS/UTILITIES
THE DOWNLOAD!!!